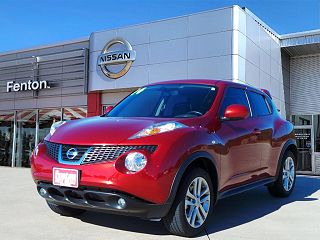 Save
Photos (12)
2013 NISSAN JUKE SL
4,455 miles
Popular Options Red SUV, 4 Cyl, AWD, Navigation System, Leather Seats, Heated Seats, Handsfree/Bluetooth Integration... More
No accidents reported to CARFAX.

1st owner purchased in 11/13/13 and owned in OK from 11/13/13 to 08/08/14

•

2nd owner purchased in 12/01/14 and owned in OK from 12/01/14 to Present....

Estimated annual miles/year unknown.

Last serviced at 24,967 in Elk City, OK on 11/16/15

•

Maintenance inspection completed

•

Anti-theft/keyless remote(s) replaced

•

Battery/charging system checked....