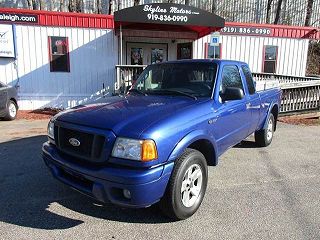 Save
Photos (16)
2005 FORD RANGER XLT
Mileage: 173,000
Description: Used 2005 Ford Ranger XLT Pickup with 6 Cyl, Manual, Alloy Wheels, Keyless Entry, Power Steering, Air Conditioning, Anti-lock Brakes, AM/FM... More
Color:
Blue
Engine:
6 Cyl
Transmission:
Manual
No accidents reported to CARFAX.

1st owner purchased in 03/24/05 and owned in NC from 03/24/05 to 12/31/05

•

2nd owner purchased in 01/13/06 and owned in NC from 01/13/06 to Present....

Owner 2 drove an estimated 17,135 miles/year

Last serviced in Raleigh, NC on 02/13/17

•

Ignition coil(s) replaced.