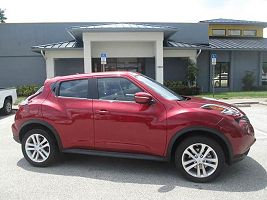 Save
Photos (19)
2016 NISSAN JUKE S
5,777 miles
Popular Options Red SUV, 4 Cyl, Handsfree/Bluetooth Integration, Rear-View Camera... More
Accident reported

•

Vehicle involved in a rear-end collision with another motor vehicle

•

Minor damage reported

•

Airbags did not deploy ....

Purchased in 12/01/15 and owned in FL from 12/01/15 to 04/04/16.

Estimated annual miles/year unknown.

Last serviced at 133 in Daytona Beach, FL on 04/01/16

•

Vehicle serviced.